Metro Express BLW90
Type III Ambulance
Ford E-350 / Chevy G3500
144" x 90" x 70"
A reinvigorated, minimalist design that can take on BLS and ALS operations. With a layout inspired by the BL90, the Medix Metro Express BLW90 Type III offers a cost-effective, controlled-option workhorse with the added flexibility of a CPR seat configuration.
Modular Design
Plus powder-coated aluminum cabinet faces in place of cost-prohibitive formed aluminum cabinetry.
Easier to Service
Most replacement parts ship same-day should you encounter an accident.
Standard Features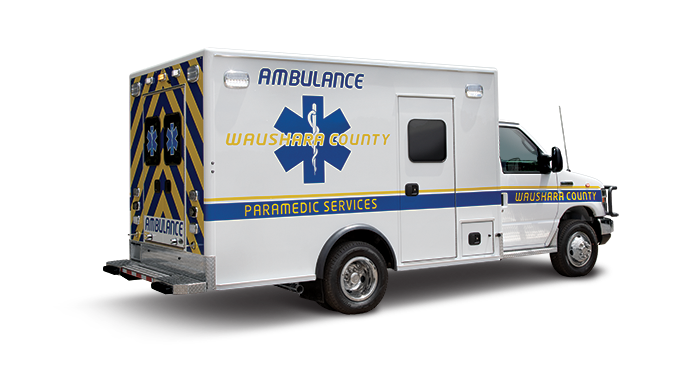 | | |
| --- | --- |
| Chassis | Ford E-350 |
| Wheel Base | 138" |
| Engine | 7.3L V-8 Gasoline |
| Transmission | Automatic 10-Speed |
| Module Length | 144" |
| Module Width | 90" |
| Aisle Width | 47" |
| Module Headroom | 70" |
| GVWR | 11,500 |
| | |
| --- | --- |
| Chassis | Chevy G3500 |
| Wheel Base | 139" |
| Engine | 6.6L V-8 Vortec Gasoline |
| Transmission | Automatic 6-Speed |
| Module Length | 144" |
| Module Width | 90" |
| Aisle Width | 47" |
| Module Headroom | 70" |
| GVWR | 12,300 |
Specifications
Body
Body – 2″ x 2″ x .125″ w/.090″ 5052-H32 skin
Sub-Floor – 2″ x 2″ x .125″, 2″ x 2″ x .250″ & 1.75″ x 4″ x .250″ C-channel w/.750″ AL plate
Floor – .060″ AL barrier, .75″ marine grade
Compartments – smooth AL w/rubberized urethane coat
SS Front – O2 M-cylinder mount
SS Middle – open storage
SS Rear – open storage
CS Front, Lower – battery tray, roll-out
Doors & Windows – tinted, fixed glass
TriMark free-floating, powder coated black
Rear Bumper Frame – HD steel tube frame powder coated black
Rear Step – ADP rear pods w/flip-up step, w/rubber dock bumpers
Mud Flaps – rubber rear
Fender Flares – black rubber
Running Boards – w/ADP splash guard
Stone Guards – ADP each corner
Rub Rails – C-channel w/1″ reflective strip
Environmental/Electrical
Combo 59K BTU heat, 38K BTU cool
650 CFM multi-speed fan
Exhaust Fan – 2-speed, 520 CFM
Digital thermostat control
Digital volt/amp meter
Standard, easy maintenance Bussman electrical system
Electrical Cabinet – over walk-thru w/hinged, latching door
Front/rear switch panels w/internal LED backlighting
Wiring – GXL, point-to-point, color coded
Front Console – floor-mounted, formed aluminum body w/ (2) cup holders and map pocket
Rear Control Panel – w/integral LED clock
Shoreline – 125V, 20-amp, 60 Hz receptacle
TST commander 400 battery disconnect
Battery Charger – 45-amp
Inverter – pre-wired
125 VAC Outlets – (3)
12 VDC Outlets – (3)
USB Port – dual 2-amp outlets
Radio Power/Ground – (2) w/antenna coax
Lights & Siren
Front – (5) M9 Series (4) red, (1) white LED on front wall: R/R/W/R/R
Sides – (2) M9RCZ combination red LED w/white LED scene each side
Rear – (2) M9 Series red LED upper rear corners, (1) M7 Series amber LED center over rear doors
Grille – (2) Mini ION-T red LEDs w/chrome bezels
Intersection – (2) Mini ION-T Series red LED w/chrome bezels
Load Lights – (2) M7 Series LED Opti-Scene
Siren – SLSA1 200 watt in front console
Speakers, Siren – (2) 100 watt thru bumper
Interior
Cabinet to Squad Bench Aisle – 47″
Cab to Patient Compartment Pass-Thru – sliding window
Extended Action Area
Laminated Wood Cabinetry – Action area overhead & rear wall cabinets
ALS Cabinet – lower locking cabinet, middle open storage w/adjustable shelf & acrylic doors or cargo net
Lexan sliding doors w/extruded pull handles
Squad Bench – (2) belted positions
Sharps/waste drop-in w/red plex lid
Technician's Seat – captain's chair w/V-4 belt on steel base w/storage
Interior Lighting – (8) LED dome lights recessed in ceiling w/5-minute check-out timer, 16″ LED bar light in action area
Grab Handles – SS on each entry door panel
Grab Rail – 72″ SS overhead in ceiling
Cushions – formed/seamless upholstery w/2.5″ foam
Flooring – .125″ vinyl w/3″ roll-up
Patient Care
Suction Aspirator – RICO RS-4X
Oxygen Outlets – (2) in action area, (1) head of squad bench
Oxygen Cylinder Retention – steel bracket w/ (3) straps & collar oxygen cylinder wrench
IV Holders – (2) CPI 2008, fold-down, recessed hangers
Cot Mount – KKK-A-1822F compliant cot mount hardware
Paint, Decals, Lettering
Star-of-Life Decals – optional
Paint Stripe – optional
Lettering/Graphics Package – optional
(2) NO SMOKING, (2) FASTEN SEAT BELTS
Warranties
Electrical – 72 months/72,000 miles
Limited – 36 months/36,000 miles
Paint – 48 months
Body Structure – 15 years
Ambulance Interiors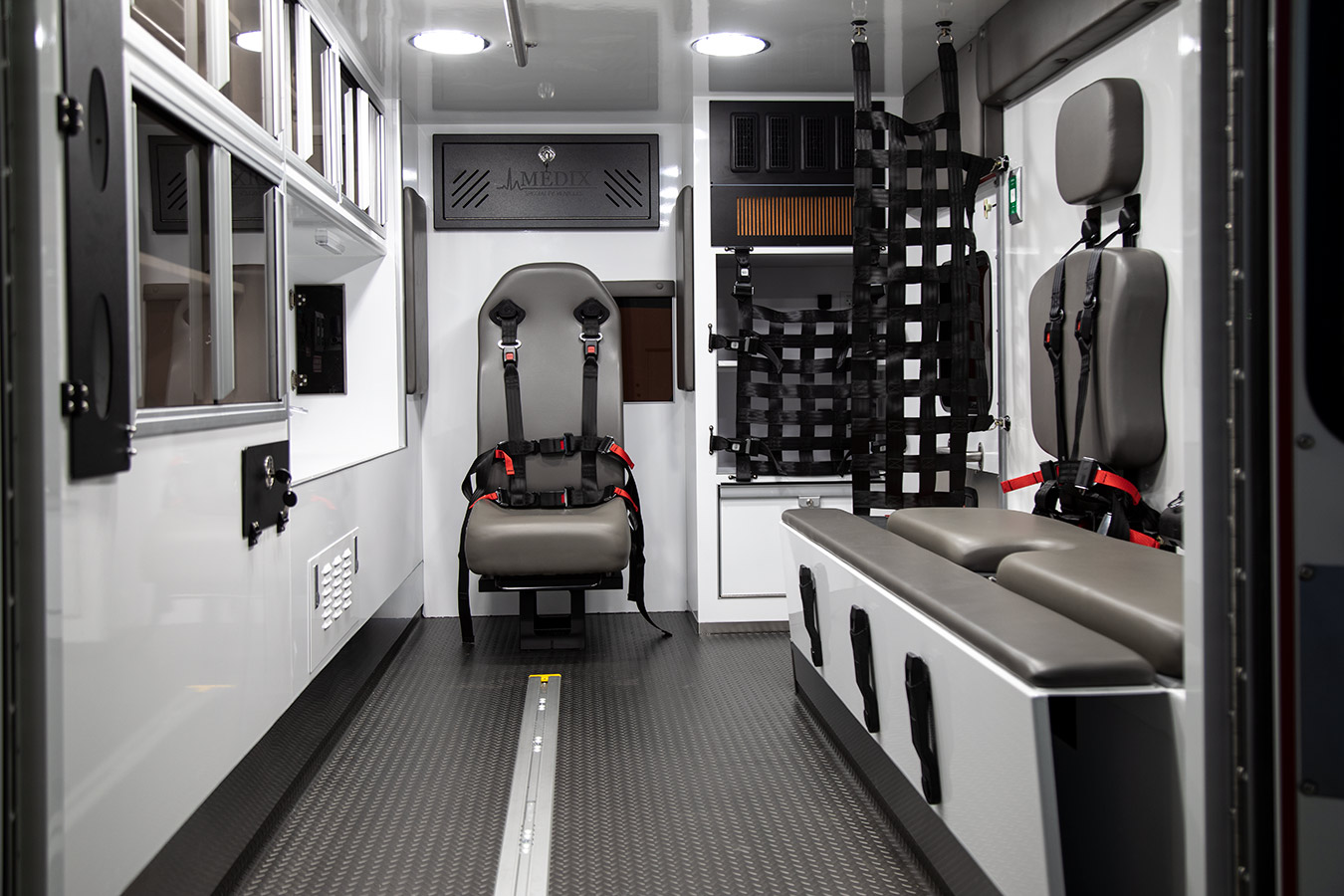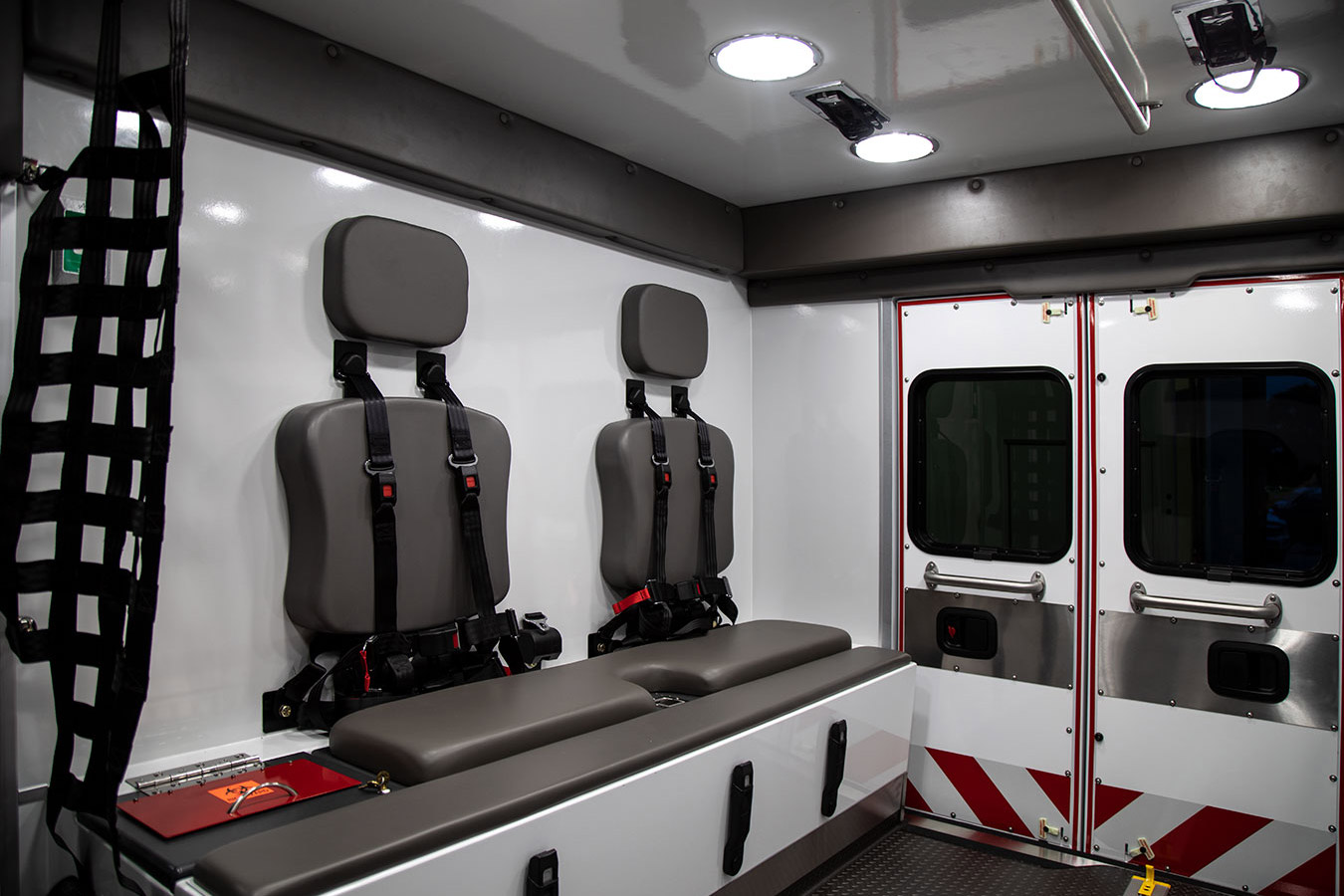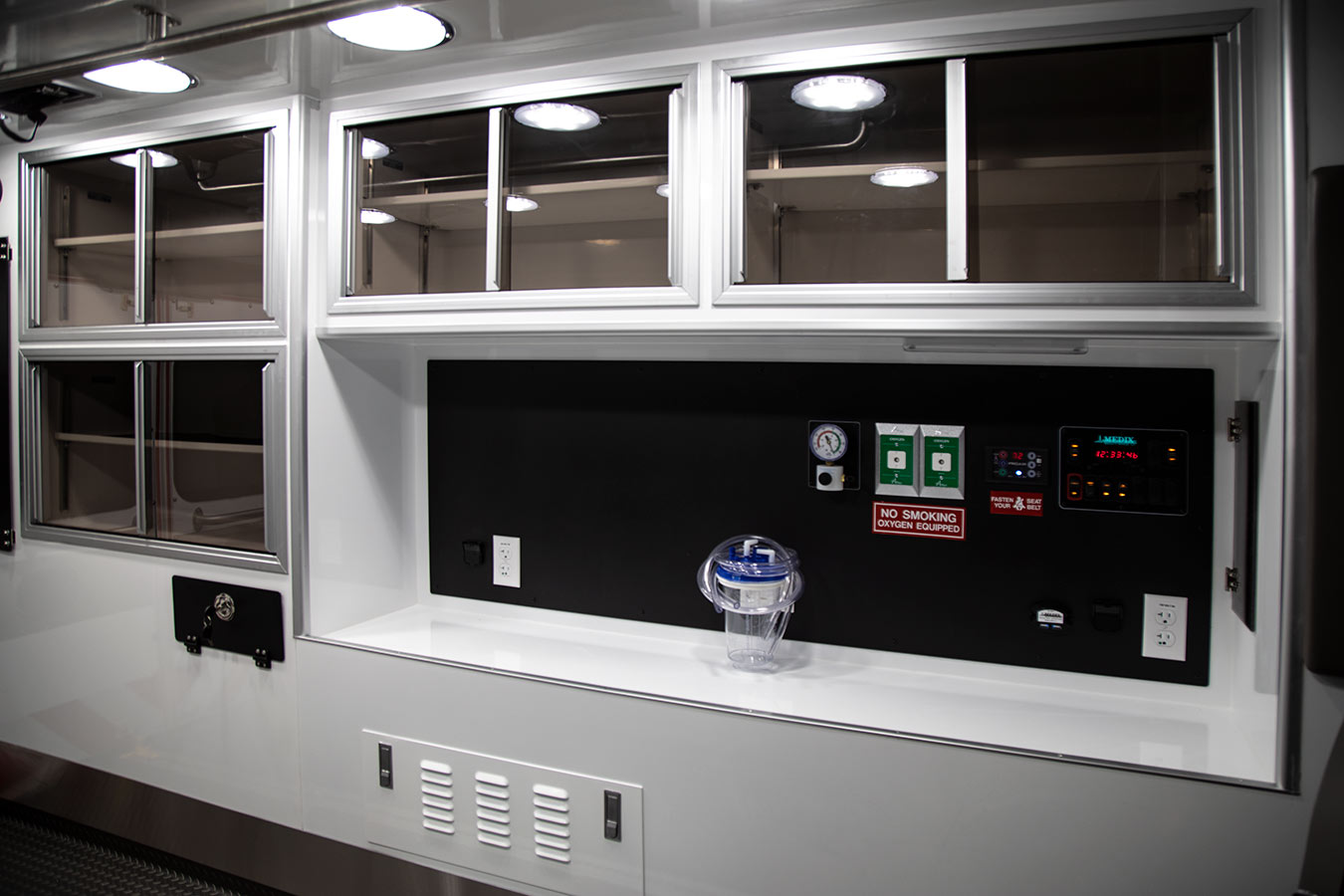 "We require a minimum of downtime in all of our units and the vehicles we purchase from Medix fit that requirement year after year."
LifeCare Medical Transports, Fredericksburg, VA