SRH-148AL
Type II Ambulance
Ford Transit 250 MR
100.7" x 79" x 68.5"
A total workhorse for ALS and BLS transport, featuring Whelen emergency, scene and load lighting for top visibility. Standard features include 3D/CNC produced wood and aluminum cabinetry, HD welded steel curbside wall structure, high back tech seating and transverse 02.
Cleaner
Single piece formed fiberglass ceiling and curbside wall reduce trim and facilitate a clean interior.
Safer
All seating is tested to meet the more rigorous standards required by SAE/NHTSA.
Standard Features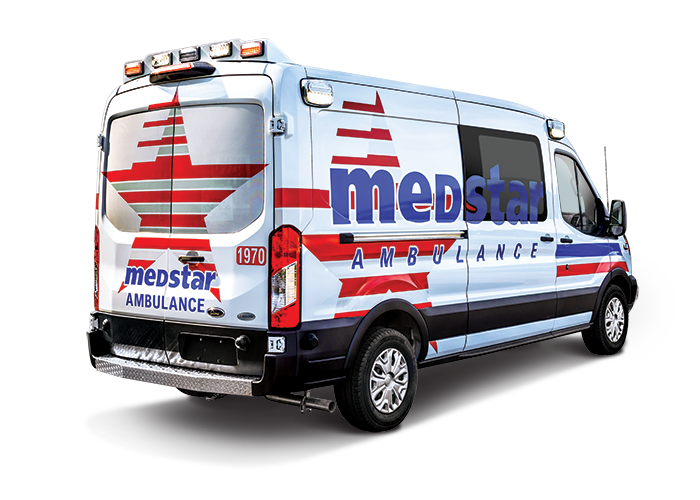 | | |
| --- | --- |
| Chassis | Ford Transit 250 MR |
| Wheel Base | 148″ |
| Engine | 3.5L EcoBoost Gas RWD – 3.5L EcoBoost AWD |
| Transmission | Automatic 10-Speed Select Shift |
| Floor Length | 122+" |
| Overall Height | 100.7" |
| Overall Width | 79" |
| Aisle Width | 37" |
| Compartment Headroom | 68.5" |
| GVWR | 9,070 |
Specifications
Body
Ford OEM Transit 250 mid roof
Custom fiberglass housing for emergency lighting at front of OEM body above windshield
Rear Bumper – grip punched ADP step surface on top of OEM bumper step
Environmental/Electrical
Combo 35K BTU heat, 32K BTU cool
630 CFM multi-speed fan
Exhaust Fan – 2-speed, 520 CFM
Ducted A/C-heat full length SS main
Thermostatic control
Digital volt/amp meter
Easy maintenance relay/breaker electrical system w/printed circuit board
Electrical Cabinet – top of main upper cabinet w/vented/hinged locking door
Front/rear switch panels w/internal LED backlighting
Wiring – GXL, point-to-point, color coded
Front Console – CNC cut, formed & welded, securely bolted in place
Rear Control Panel – w/thermostat
Shoreline – 125V, 20-amp, 60 Hz receptacle
TST commander 400 battery disconnect
Battery Charger – 45-amp
Inverter – pre-wired
125 VAC outlets – (2)
12 VDC outlets – (2)
USB Port – dual 2-amp outlet on A/A wall
Radio power/ground – (2) w/antenna coax
Lights & Siren
Light bar, prewire for LED bar
Exterior Body Lights – (4) M9RCZ combo emergency/scene w/chrome bezel, (4) 700 red & (1) 700 front R/R/W/R/R on form fitted fiberglass cap, (2) 700 red, (1) 700 amber & (2) 700 LED load R/L/A/L/R on form fitted rear fiberglass light housing over rear doors
Grille – (2) LINZ6 red LEDs w/chrome bezels
Intersection – (2) M2W red LED w/chrome
Load Lights – (2) Whelen LED
Siren – 200 watt w/NC Whelen WS295SA7
Speakers, Siren – (2) 100 watt thru front bumper
Interior
Head Liner – formed single piece fiberglass
Curbside Wall – formed single piece fiberglass
Cabinet to Squad Bench Aisle – 37″
Bulkhead, powder coated AL pass-thru wall
Cabinetry – CNC cut, formed & welded aluminum, powder coated gray
Full length aluminum lower wall cabinets
Full length aluminum upper wall cabinets
HDPE action area w/HDPE drug box below
3 glove HDPE box at top of bulkhead wall
Stair Chair Pocket – streetside rear main wall
Easily accessible battery charger/inverter
ALS cabinet – formed, welded aluminum powder coated gray w/HDPE top
Squad bench – formed/powder coated aluminum w/vertical slide in BB storage
EVS V4 belt system on SB, EVS 1760 tech seat w/EVS V4
Interior Lighting – (8) Whelen LED dome lights
5-minute check-out timer
LED bar light in action area
Grab Handles – on each rear entry door panel, 18″ formed stainless on CS entry ALS wall
Grab Rail – 72″ overhead in ceiling
Cushions – vacu-formed/seamless upholstery
Flooring – Altro Zodiac or Lonseal solid vinyl
Patient Care
Suction Aspirator – RICO RS-4X
Oxygen Outlets – (2) in action area, (1) over squad bench
Oxygen Cylinder Retention – transverse at bulkhead w/steel bracket, (3) straps, collar & O2 cylinder wrench
IV holders – (2) CPI 2008 recessed in ceiling
Cot mount – GSA/AMD compliant single position floor mount
Paint, Decals, Lettering
Star-of-Life Decals – optional
Paint Stripe – optional
Lettering/Graphics Package – optional
(2) NO SMOKING, (2) FASTEN SEAT BELTS
Warranties
Electrical – 72 months/72,000 miles
Limited – 36 months/36,000 miles
Paint – 48 months, if applicable
Ambulance Interiors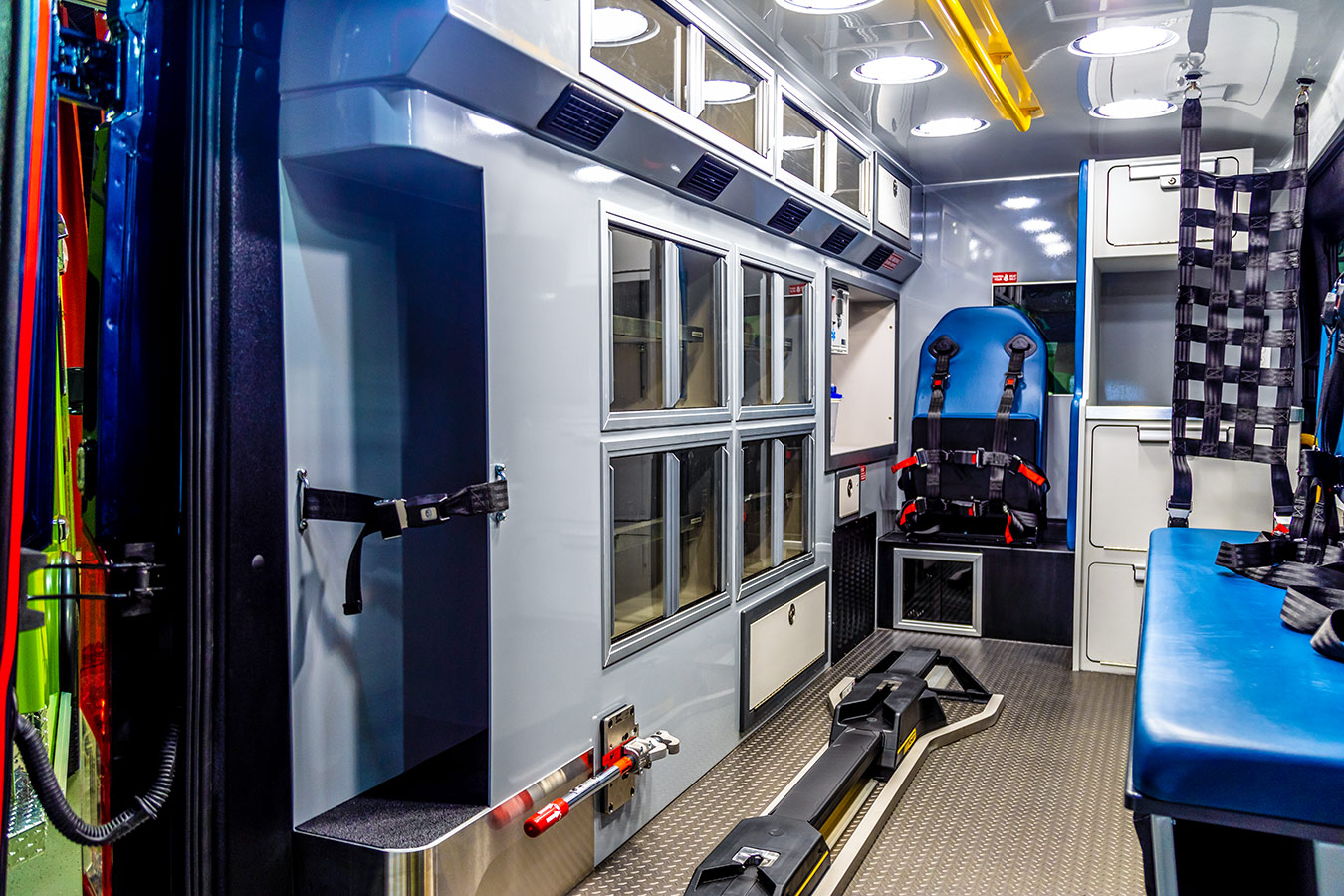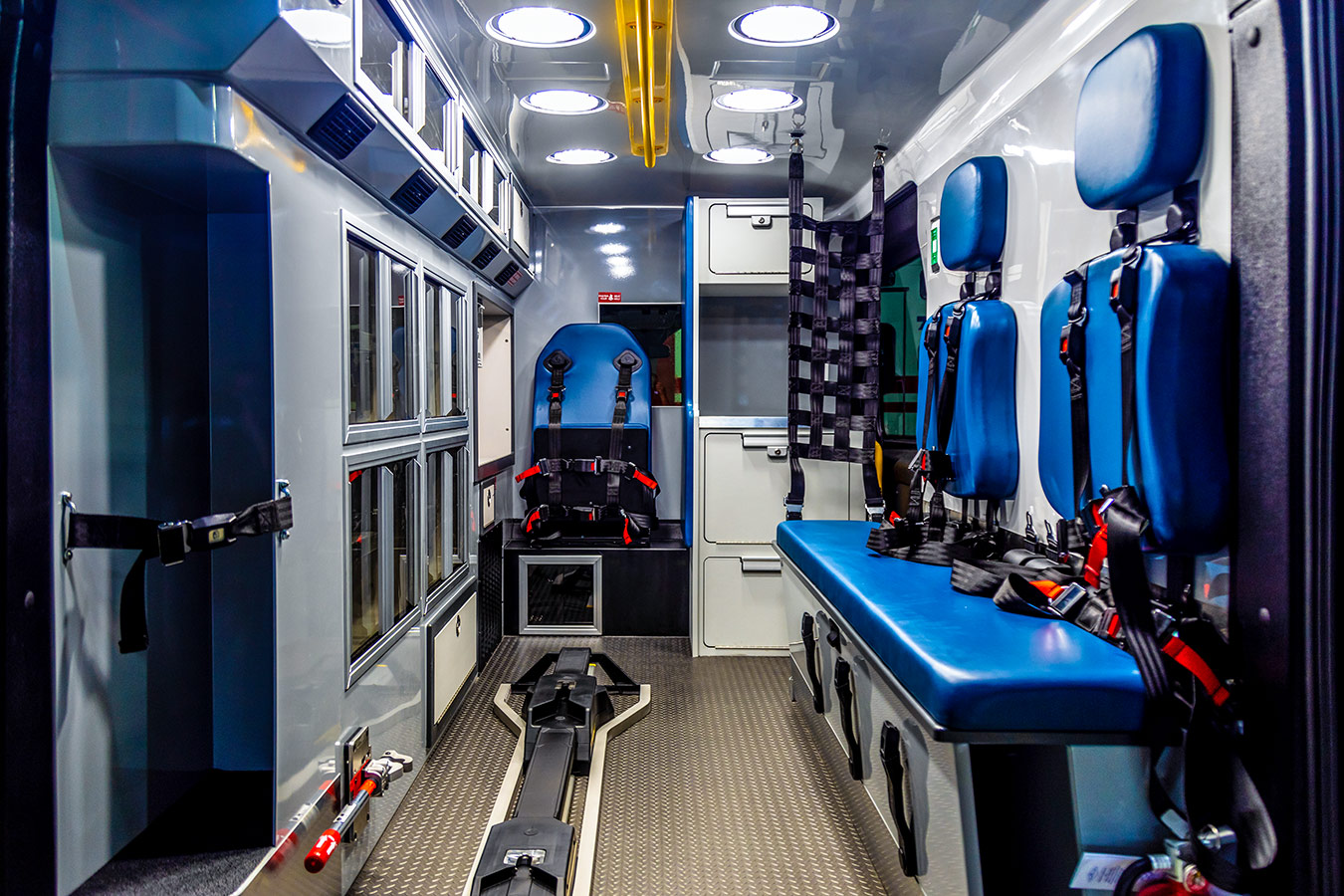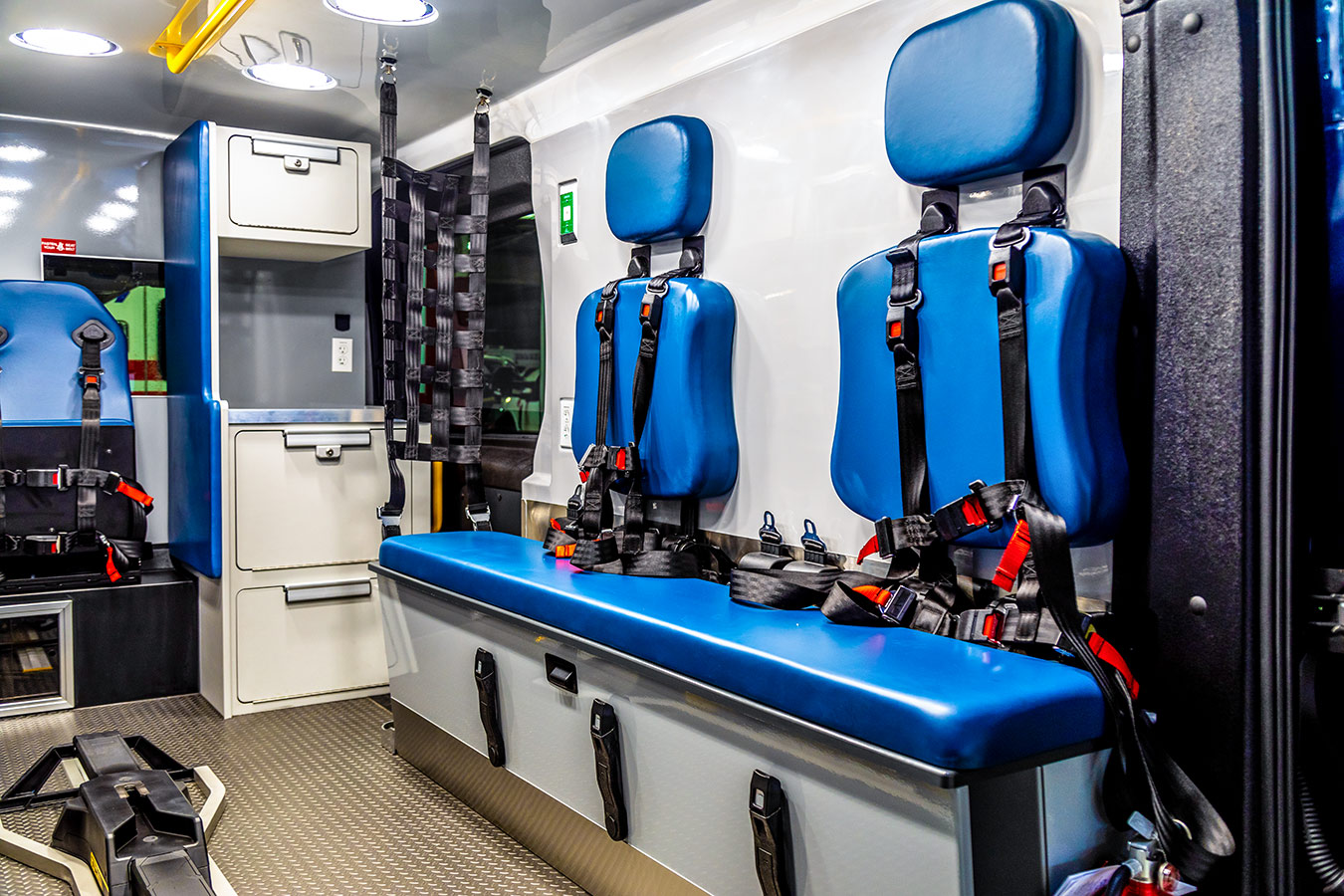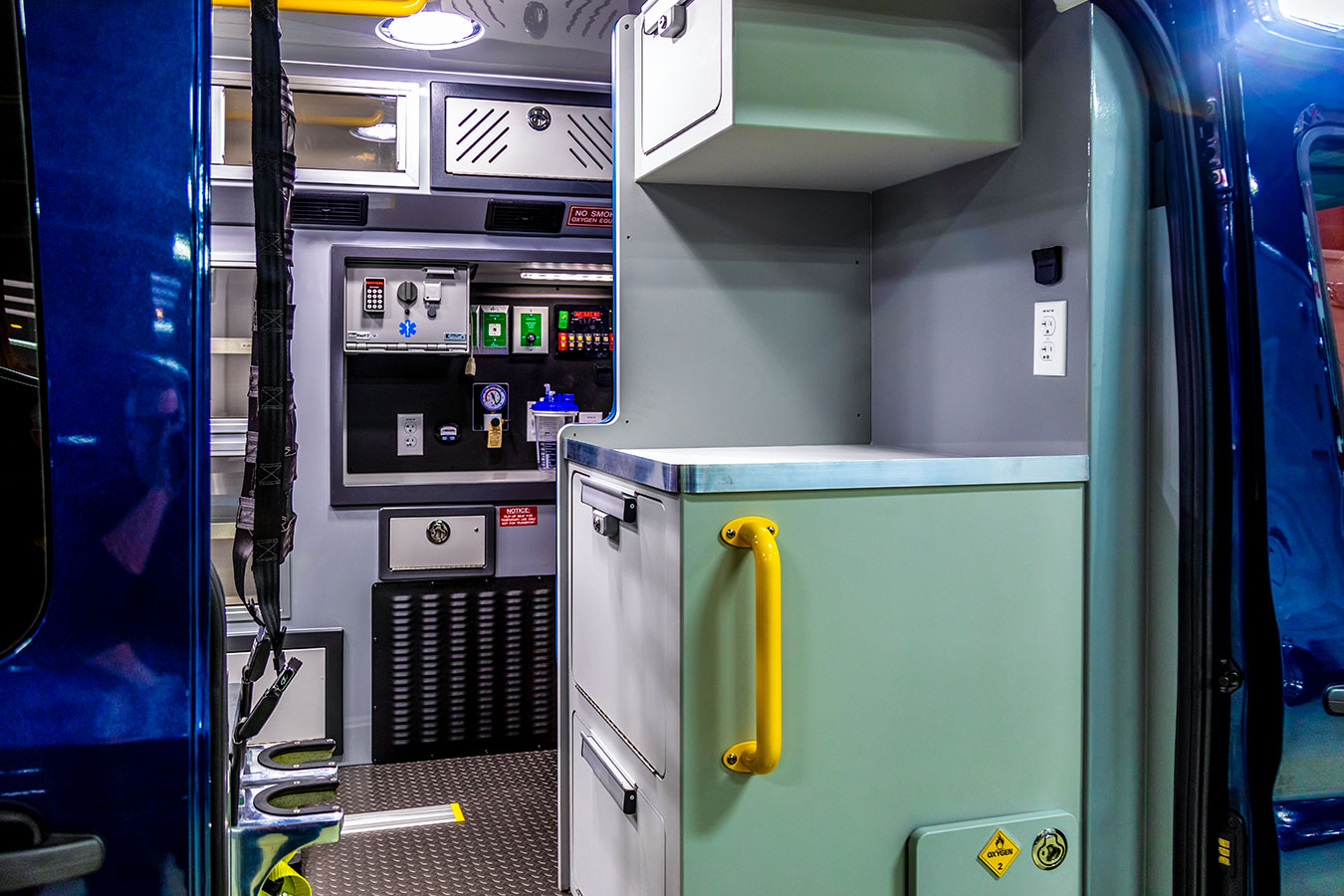 "We require a minimum of downtime in all of our units and the vehicles we purchase from Medix fit that requirement year after year."
LifeCare Medical Transports, Fredericksburg, VA