Metro Express RP90ES
Type III Ambulance
Ford E-350 / Chevy G-3500
146" x 90" x 68"
Lightweight, heavy-duty response. The Metro Express RP90ES provides the working clearance, rugged build quality and manufacturing repeatability to lead bariatric, CCT and ALS transport operations.
Stronger
Static load tested to 50,000 PSI.
Easier to Service
Most replacement parts ship same-day should you encounter an accident.
Standard Features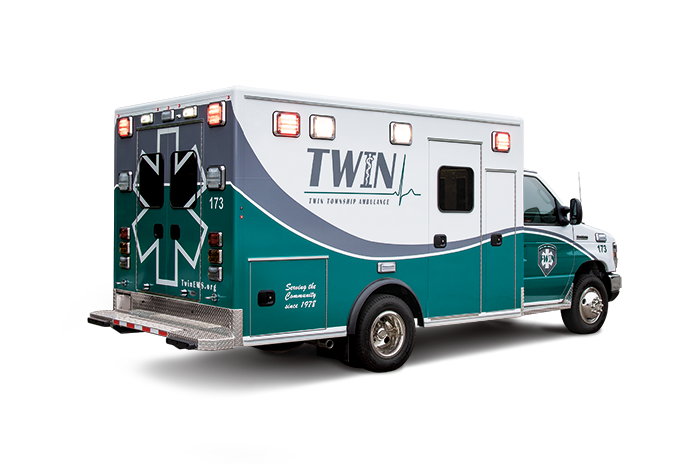 | | |
| --- | --- |
| Chassis | Ford E-350 |
| Wheel Base | 138″ |
| Engine | 7.3L V-8 Gas |
| Transmission | Automatic 10-Speed |
| Module Length | 146" |
| Module Width | 90″ |
| Aisle Width | 45″ |
| Module Headroom | 68″ |
| GVWR | 11,500 |
| | |
| --- | --- |
| Chassis | Chevy G-3500 |
| Wheel Base | 139″ |
| Engine | 6.0L V-8 Vortec Gas |
| Transmission | Automatic 10-Speed |
| Module Length | 146" |
| Module Width | 90″ |
| Aisle Width | 45″ |
| Module Headroom | 68″ |
| GVWR | 12,300 |
Specifications
Body
Body – 2″ x 2″ x .125″ w/.090″ 5052-H32 skin
Sub-Floor – 2″ x 2″ x .125″, 2″ x 2″ x .250″ & 1.75″ x 4″ x .250″ C-channel w/.750″ AL plate
Floor – .060″ AL barrier, .75″ marine grade
Compartments – smooth AL w/rubberized urethane coat
SS Front – O2 M-cylinder mount
SS Middle – open storage
SS Rear – backboard storage
CS Front, Upper – ALS w/IS/OS access
CS Front, Lower – battery tray, roll-out
CS Rear – optional general storage
Doors & Windows – tinted, fixed glass
TriMark free-floating, powder coated, black, entry door & compartment handles

Rear Bumper Frame – HD steel tube frame powder coated black
Rear Step – ADP rear pods w/flip-up step, w/rubber dock bumpers
Mud Flaps – rubber rear
Fender Flares – black rubber
Running Boards – w/ADP splash guard
Stone Guards – ADP each corner
Rub Rails – C-channel w/1″ reflective strip
Environmental/Electrical
Combo 59K BTU heat, 38K BTU cool
650 CFM multi-speed fan
Exhaust Fan – 2-speed, 520 CFM
Digital thermostat control
Digital volt/amp meter
Standard, easy maintenance relay/circuit breaker electrical system
Electrical Cabinet – over walk-thru w/hinged, latching door
Front/rear switch panels w/internal LED backlighting
Wiring – GXL, point-to-point, color coded
Front Console – floor-mounted, formed ABS body w/ (2) cup holders
Rear Control Panel – w/integral LED clock
Shoreline – 125V, 20-amp, 60 Hz receptacle
TST commander 400 battery disconnect
Battery Charger – 45-amp
Inverter (optional) – standard pre-wire
125 VAC Outlets – (3)
12 VDC Outlets – (3)
USB Port – dual 2-amp outlets
Radio Power/Ground – (2) w/antenna coax
Lights & Siren
Front – (7) 900 Series (4) red, (3) white LED on front wall: R/W/R/W/R/W/R
Sides – (2) 900 Series red LED each side upper corner
Rear – (2) 900 Series red LED upper rear corners, (1) 700 Series amber LED center rear, (2) 900 Series red LED rear mid-body as brake/warning
Grille – (2) LINZ6 red LEDs w/chrome bezels
Intersection – (2) 700 Series red LED w/chrome bezels
Scene Lights – (2) 900 Series halogen Gradient Opti-Scenelight each side
Load Lights – (2) 700 Series LED Gradient Opti-Scenelight
Siren – SLSA1 200 watt in front console
Speakers, Siren – (2) 100 watt thru bumper
Interior
Cabinet to Squad Bench Aisle – 46″
Cab to Patient Compartment Walk-Thru – sliding door
Laminated Wood Cabinetry – full SS wall cabinetry or w/CPR seat
Action area & overhead cabinet
Walk-thru & bulkhead storage cabinets
ALS Cabinet – lower locking cabinet, middle & upper open storage w/adjustable shelf
Lexan sliding doors w/extruded pull handles
Squad Bench – (2) belted positions
Sharps/waste drop-in w/red plex lid
Technician's Seat – captain's chair w/4-point harness on steel base w/storage
Interior Lighting – (8) LED dome lights recessed in ceiling w/5-minute check-out timer, 16″ LED bar light in action area
Grab Handles – SS on each entry door panel
Grab Rail – 72″ overhead in ceiling
Cushions – formed/seamless upholstery w/2.5″ foam
Flooring – .125″ vinyl w/3″ roll-up
Patient Care
Suction Aspirator – RICO RS-4X
Oxygen Outlets – (2) in action area, (1) head of squad bench
Oxygen Cylinder Retention – steel bracket w/ (3) straps & collar oxygen cylinder wrench
IV Holders – (2) CPI 2008, fold-down, recessed hangers
Cot Mount – KKK-A-1822F compliant cot mount hardware
Paint, Decals, Lettering
Star-of-Life Decals – optional
Paint Stripe – optional
Custom Lettering/Graphics Package – optional
(2) NO SMOKING, (2) FASTEN SEAT BELTS
Warranties
Electrical – 72 months/72,000 miles
Limited – 36 months/36,000 miles
Paint – 48 months
Body Structure – 15 years
Ambulance Interiors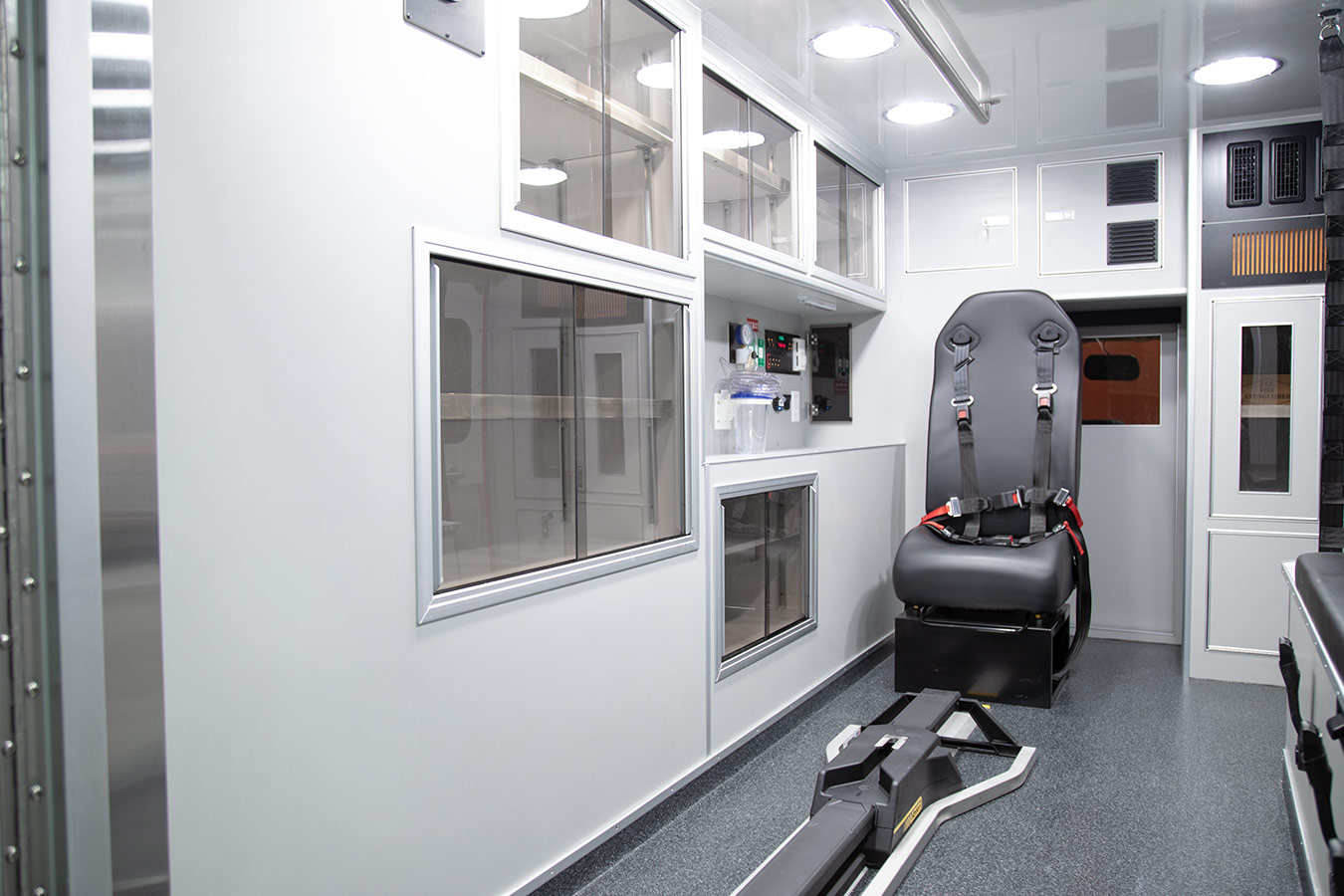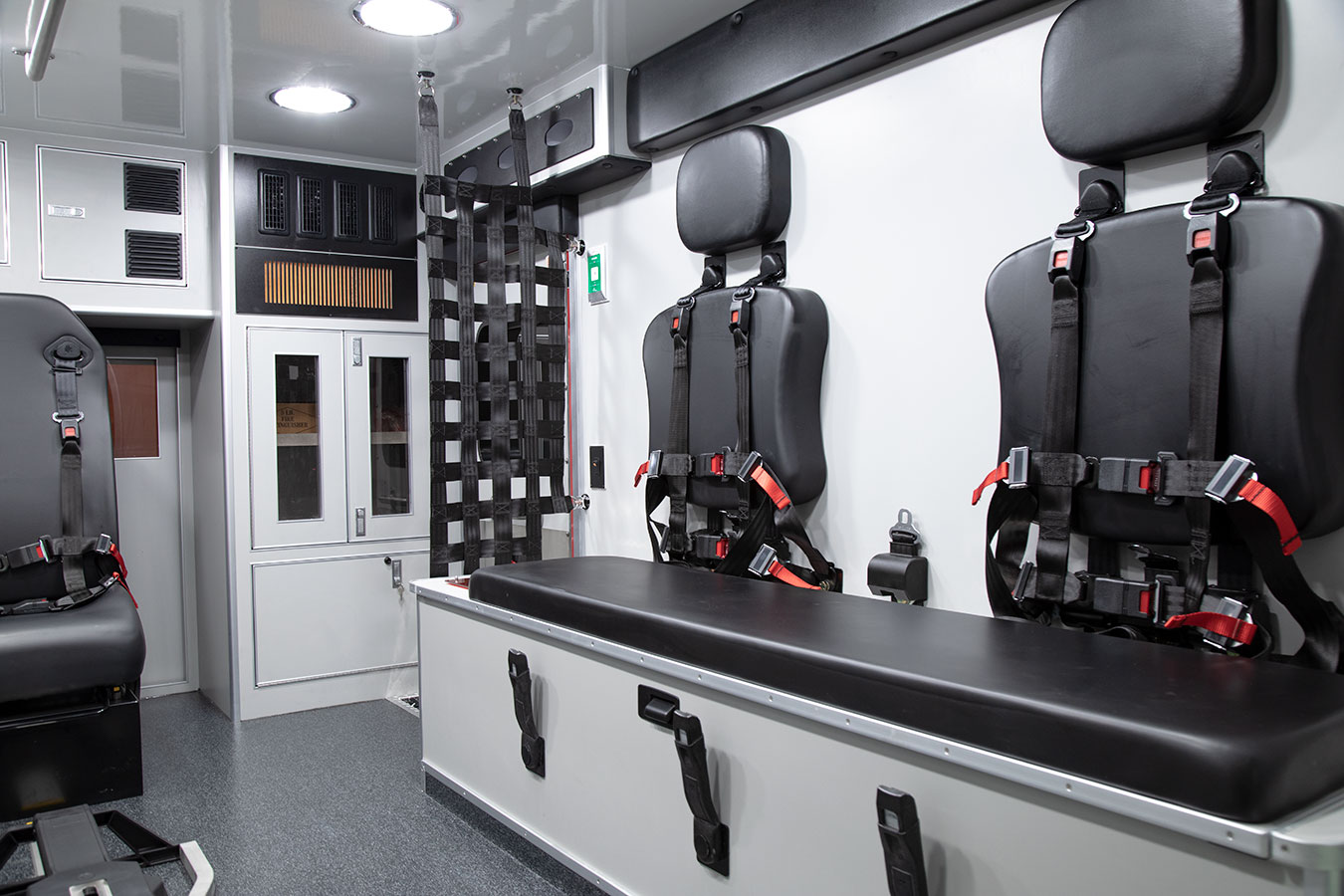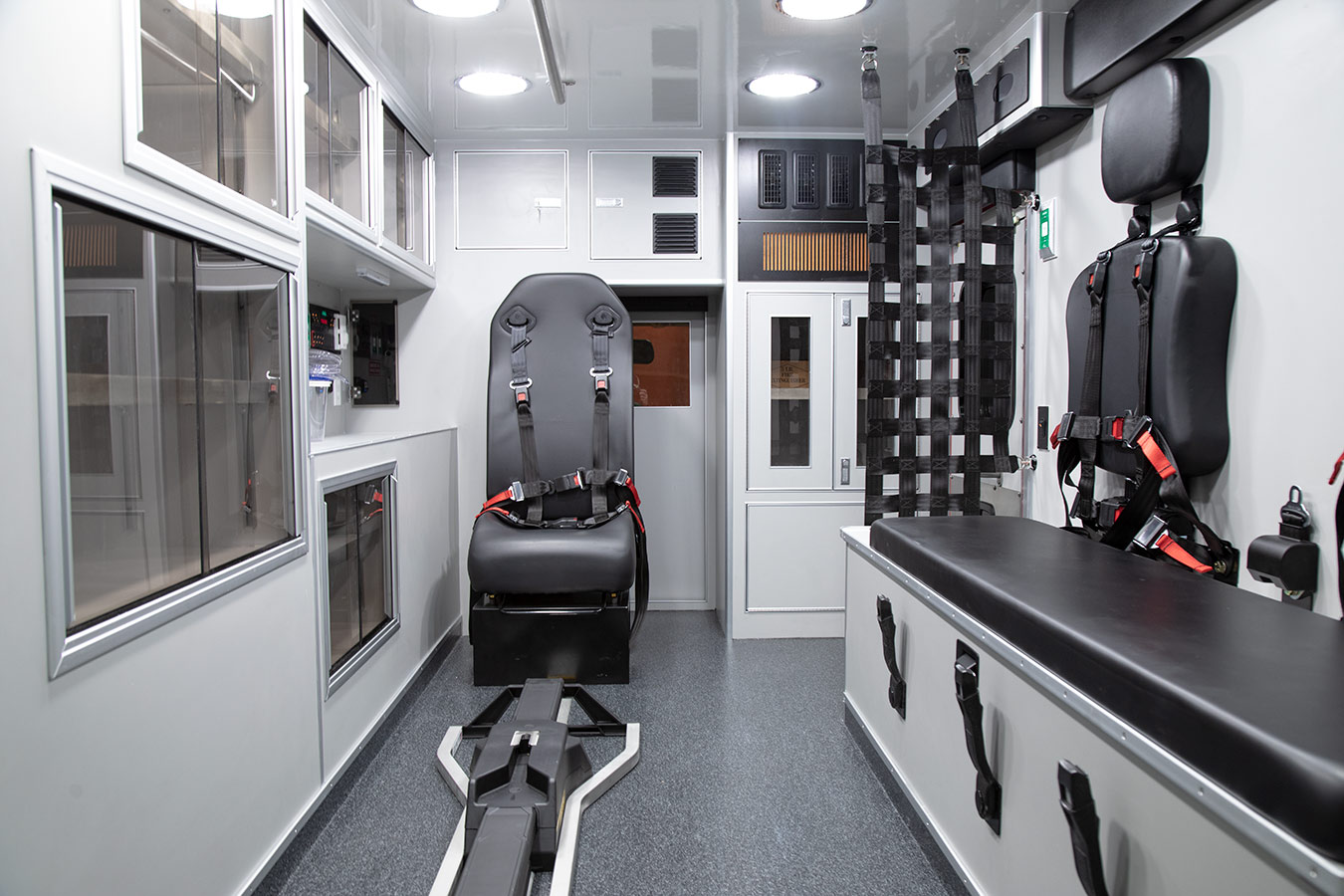 "Our crews have not stopped talking of the strength, customization, and the attention to details that go into building these ambulances. Our department…is on schedule for orders every December for the next 4 years as part of our Apparatus Replacement Program."
Weslaco Fire Department, EMS, Weslaco, TX