MSV-II 170
Type I Ambulance
Ford F-450/550 / Dodge RAM 4500/5500
170" X 96" X 72"
Lead BLS, ALS and heavy rescue operations with one of the longer box configurations of any Medix ambulance. Get a full 155" of clearance from bulkhead cabinets to the rear doors, plus 48" of aisle space to command your crew, roughhouse your gear or carefully monitor a patient.
Stronger
Dynamic and static load tested to over 74,000 PSI.
Sounder
Seamless side and rear walls do not require additional body work. Doors are fully formed with no reliance on aluminum extrusions.
Standard Features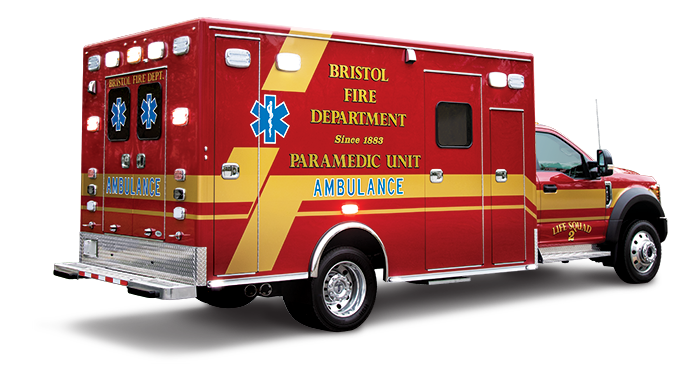 | | |
| --- | --- |
| Chassis | Ford F-450/550 |
| Wheel Base | 193" |
| Engine | 6.7L V-8 Diesel |
| Transmission | Automatic 10-Speed TorqShift |
| Module Length | 170" |
| Module Width | 96" |
| Aisle Width | 48" |
| Module Headroom | 72" |
| GVWR | 16,500/18,000 |
| | |
| --- | --- |
| Chassis | Dodge RAM 4500/5500 |
| Wheel Base | 191" |
| Engine | 6.7L I-6 OHV Diesel |
| Transmission | 6-Speed Sequential Shift |
| Module Length | 170" |
| Module Width | 96" |
| Aisle Width | 46" |
| Module Headroom | 72" |
| GVWR | 16,500/18,000 |
Specifications
Body
Body – 2″ x 2″ x .125″ w/.125″ 5052-H32 skin
Sub-Floor – 2″ x 2″ x .250″ & 2″ x 2″ x .125″, 1.75″ x 4″ x .250″ C-channel w/.750″ AL plate
Floor – .060″ AL barrier, .75″ marine grade
FMVSS 206, w/30G compliant door system
Compartments – smooth AL w/rubberized urethane coat
SS Front – O2 M-cylinder mount
SS Middle – open storage
SS Rear – open storage, I/O Upper
CS Front, Upper – ALS w/IS/OS access
CS Front, Lower – additional battery tray option
SS Rear – backboard/stair chair storage
Doors & Windows – tinted, fixed glass, TriMark free-floating, chrome w/anti-slip w/emergency release feature
Rear Bumper Frame – HD steel tube frame powder coated black
Rear Step – ADP rear pods w/flip-up step, rubber dock bumpers, CPI cast pods optional
Mud Flaps – rubber rear
Fender Flares – roll-formed stainless
Running Boards – w/ADP splash guard
Stone Guards – ADP each corner
Rub Rails – C-channel w/1″ reflective strip
Environmental/Electrical
Combo 59K BTU heat, 38K BTU cool
630 CFM multi-speed fan
Exhaust Fan – 2-speed
Digital thermostat
Digital volt/amp meter
Basic, easy maintenance relay/circuit breaker electrical system
Electrical Cabinet – over walk-thru w/hinged, latching door
Front/rear switch panels w/internal LED backlighting
Wiring – GXL, point-to-point, color coded
Front Console – CNC cut, formed, welded & powder coated black w/cup & map holders
Rear Control Panel – w/integral LED clock
Shoreline – 125V, 20-amp, 60 Hz Receptacle
TST Commander 400 battery disconnect
Battery Charger – 45-amp
Inverter – pre-wired
125 VAC Outlets – (2)/12 VDC outlets – (2)
USB Port – Dual 2-amp outlets on A/A wall
Radio Power/Ground – (2) w/antenna coax
Lights & Siren
Exterior Body Lights – (7) 900 Series LED on front wall (4) red, (3) white: R/W/R/W/R/W/R,
(2) 900 Series red LED each side upper outboard corners, (2) 900 Series LED upper rear corners, (1) 900 Series amber LED center rear, (2) 900 Series red LED mid-body rear as brake/warning
Grille – (2) LINZ6R red LEDs w/chrome bezels intersection, (4) 700 red LED w/chrome bezels, (2) front fenders (2) over rear wheel wells, Whelen 600 Series LED brake/tail, turn, back-up
Scene – (4) 900 Series halogen Gradient Opti-Scenelight (2) each side
Load – (2) 900 Series halogen Gradient Opti-Scenelight over rear doors
Siren – Whelen 200 watt w/NC MIC speakers, siren – (2) 100 watt thru front bumper
Interior
Cabinet to squad bench aisle – 47″
Laminated wood cabinetry
Full wall cabinets or CPR seat w/EVS V4 belt
Action area & overhead cabinet
Color coordinated Corian® counter tops
Pass-thru with bulkhead storage cabinets
ALS Cabinet – lower locking cabinet, middle drawer w/gas strut hold open, mid & upper storage w/adjustable shelves & 1/2″ acrylic doors w/optional available latches
Lexan sliding doors w/extruded pull handles
I/O access to OS #3
Squad bench w/EVS Pro-4 seat belt system squad bench overhead storage
Glove storage over CS entry door
Sharps/waste drop-in w/red acrylic lid
Tech Seat – EVS 1780 w/Pro-4 belt mounted on swivel base
Interior Lighting – (11) 4-3-4 w/15-minute check-out timer, 16″ LED bar light in A/A
Grab Handles – 1.25″ stainless on entry doors
Grab Rail – 72″ x 1.25″ brushed stainless
Vacu-formed upholstery to facilitate cleaning
Lonseal flooring w/3″ recessed roll-up
Stainless kick panels lower main & squad bench face
Patient Care
Suction Aspirator – SSCOR recessed in lower main
Oxygen Outlets – (2) in action area, (1) over squad bench
Oxygen Cylinder Brt-adjustable for H or M
IV Holders – (2) CPI 2008, fold-down, recessed hangers
Cot Mount – GSA/AMD compliant cot mount hardware
Paint, Decals, Lettering
Star-of-Life Decals – optional
Paint Stripe – optional
Lettering/Graphics Package – optional
(2) NO SMOKING, (2) FASTEN SEAT BELTS
Warranties
Electrical – 72 months/72,000 miles
Limited – 36 months/36,000 miles
Paint – 48 months
Body Structure – limited lifetime
Ambulance Interiors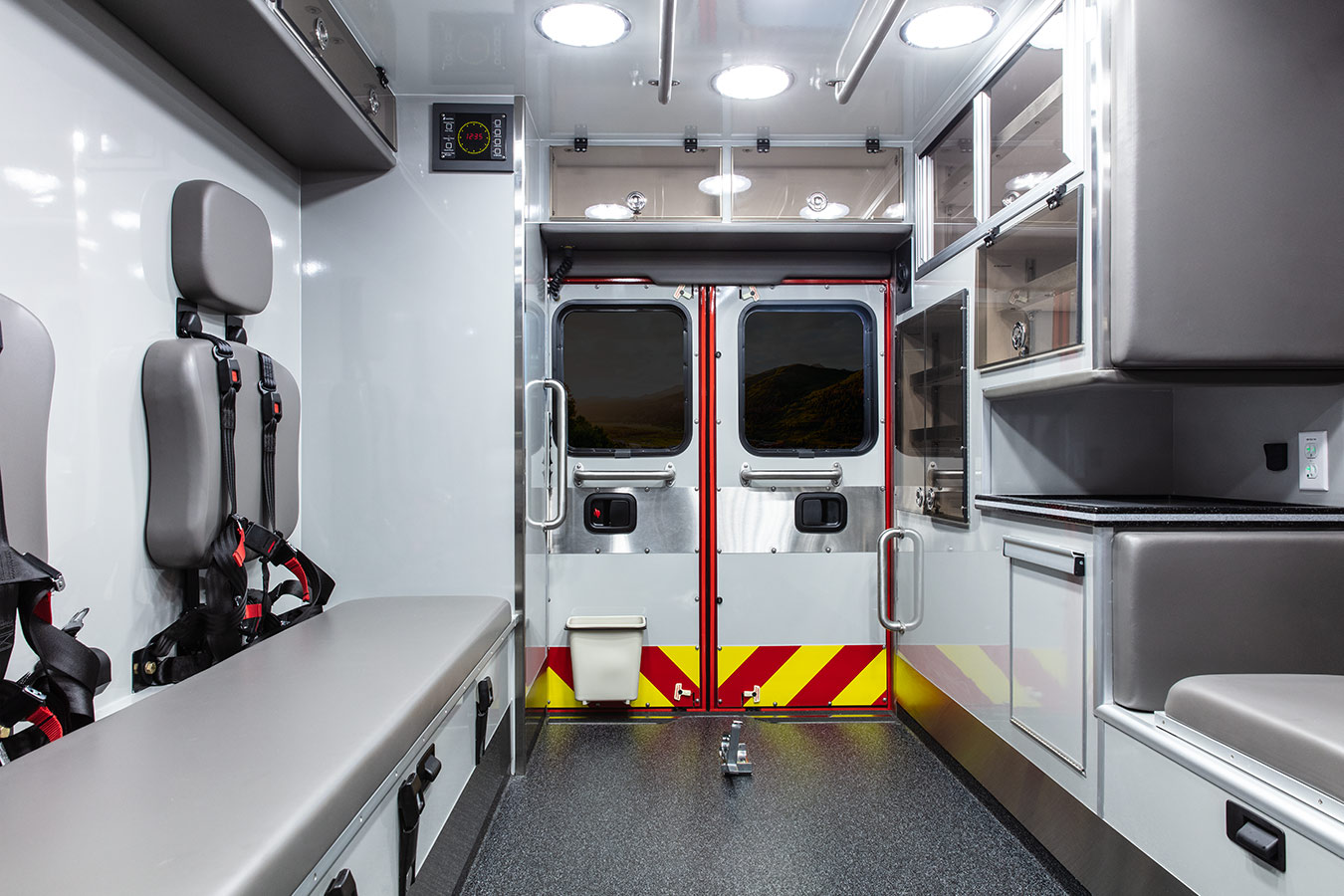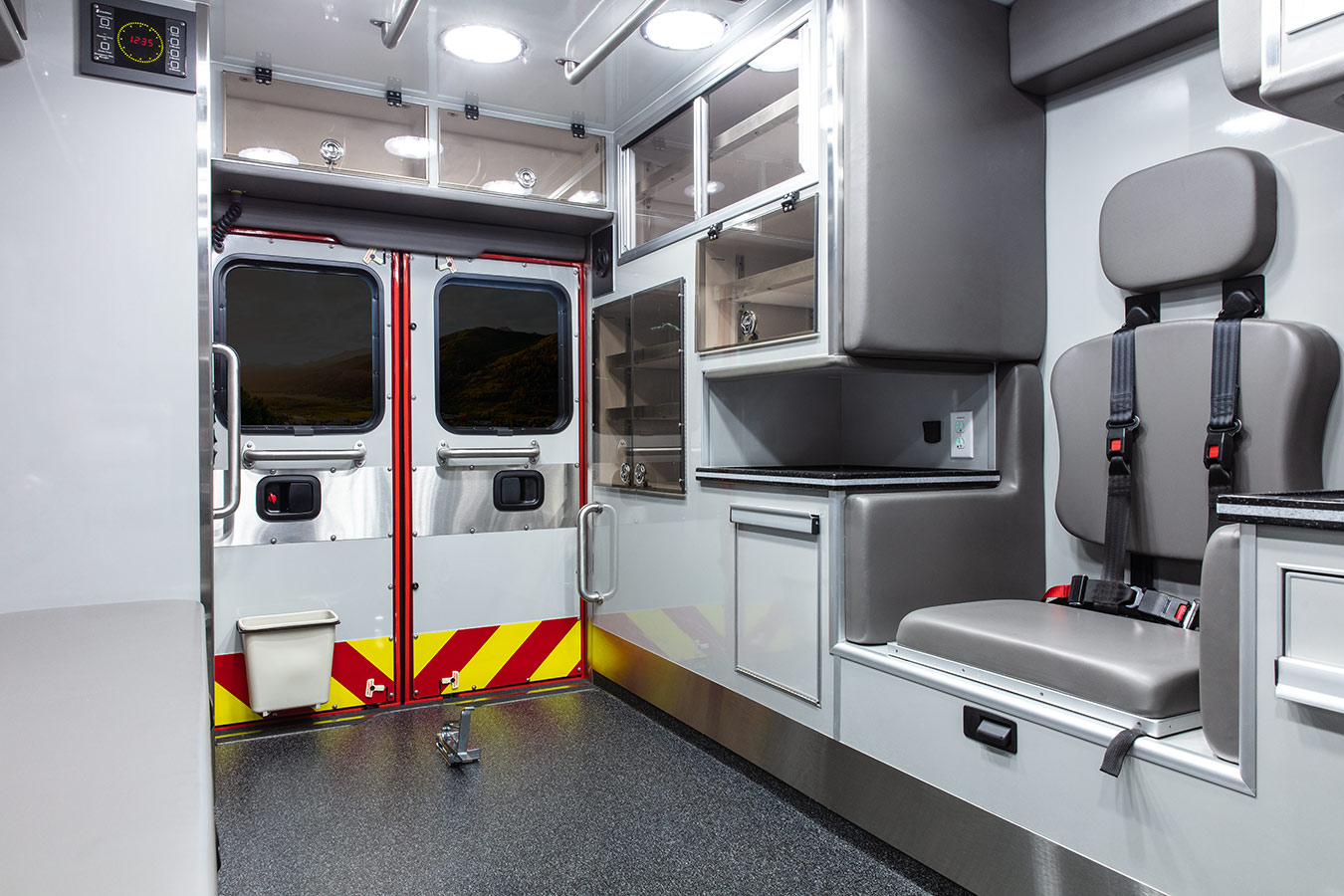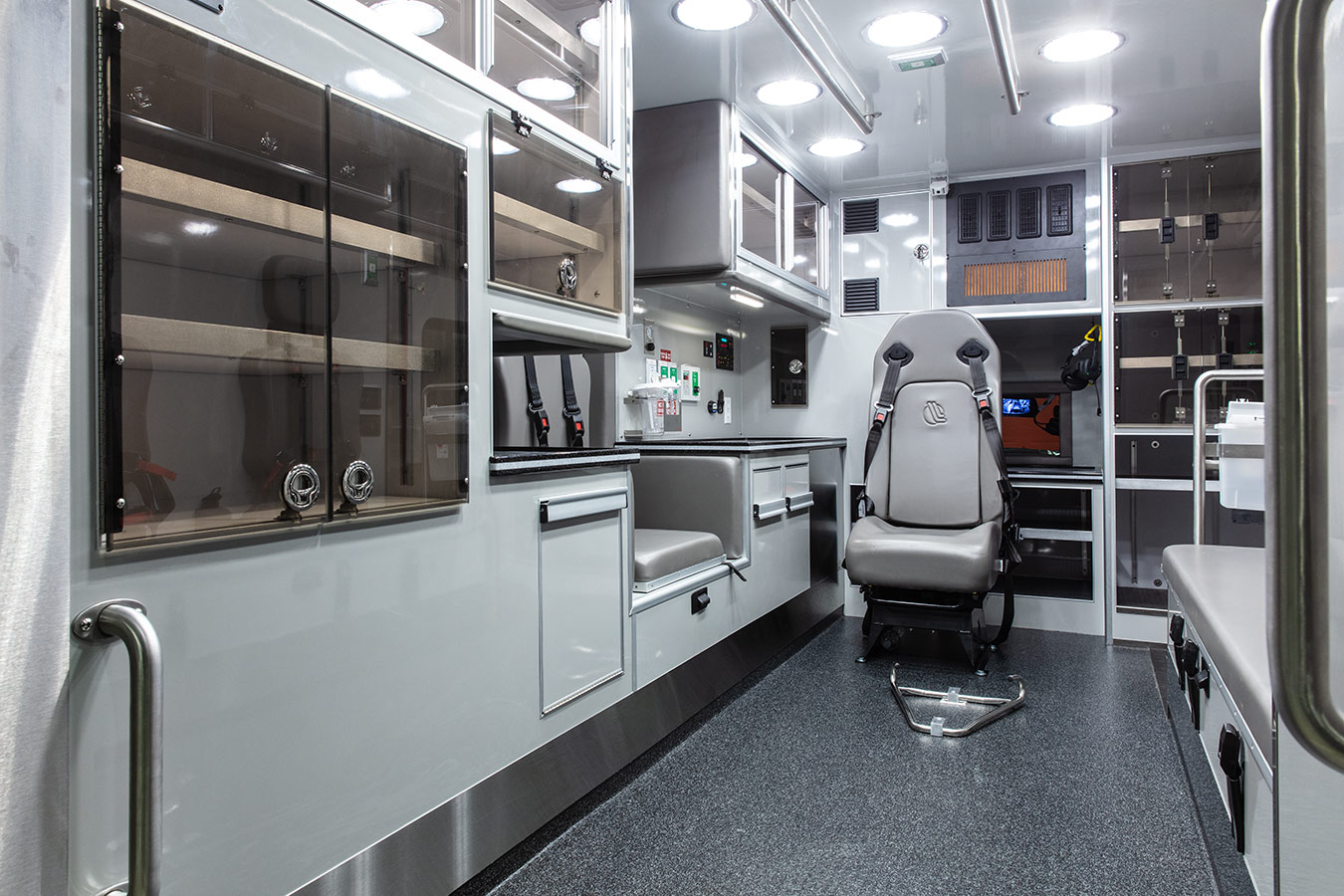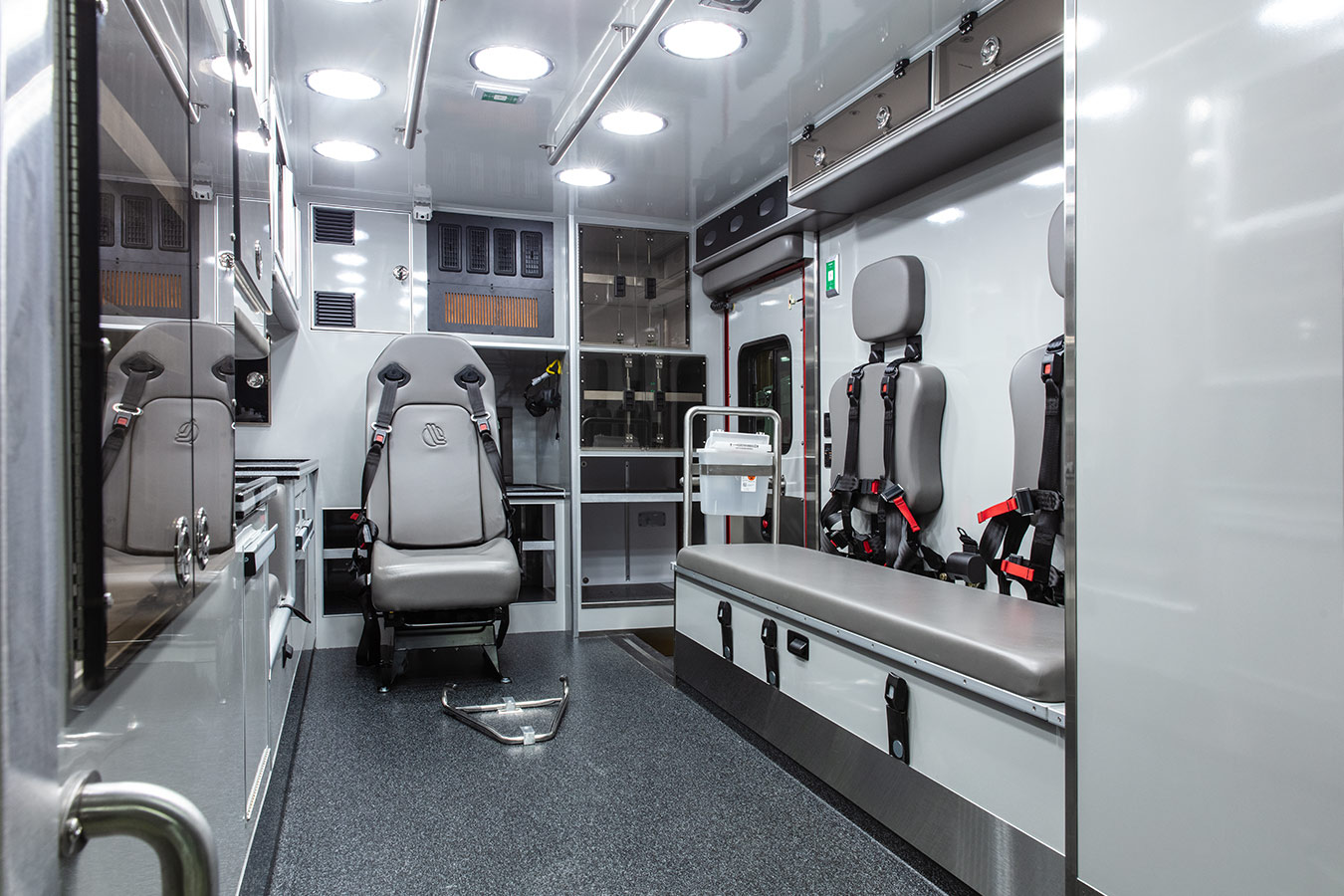 "Our Medix may be a fleet vehicle, but it looks, feels, and operates like a true custom rig that should cost twice what it did. We ultimately received the best quality ambulance any of us has ever dealt with, with all equipment installed and ready for use."
Whitestone Community Volunteer Ambulance Service, Flushing, NY