Metro Express 153
Type I Ambulance
Ford F-350/450 / Chevy C/K-3500 / Dodge RAM 3500/4500
153" x 94" x 72"
Perform with precision and urgency in a Type I ambulance that holds up to extreme use. The Metro Express 153 Type I is available on 4x2 and 4x4 conversions with LiquidSpring systems on specified chassis.
Stronger
All Medix ambulances are bonded with high-strength Methacrylate and never double-sided tape.
Quieter
Full perimeter 2″ high density foam insulation is applied to all walls and ceiling with an option for spray foam undercoating.
Standard Features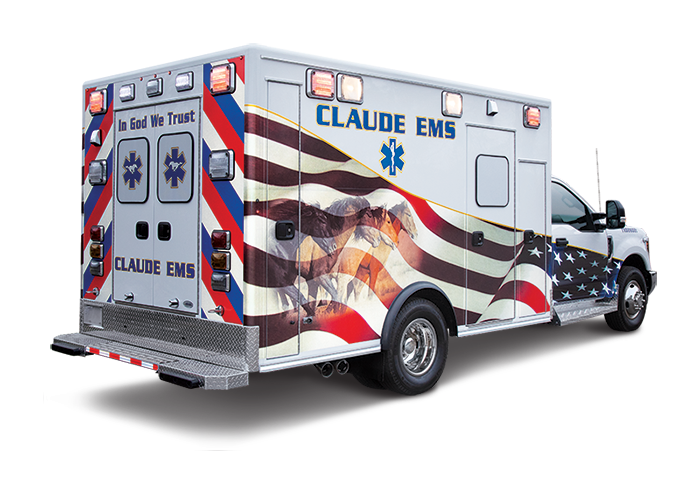 | | |
| --- | --- |
| Chassis | Ford F-350/450 |
| Wheel Base | 169″ |
| Engine | 6.7L Power Stroke® V-8 Diesel |
| Transmission | Automatic 10-Speed TorqShift |
| Module Length | 153″ |
| Module Width | 94" |
| Aisle Width | 46″ |
| Module Headroom | 72″ |
| GVWR | 14,000/16,500 |
| | |
| --- | --- |
| Chassis | Chevy C/K-3500 |
| Wheel Base | 171″ |
| Engine | 6.6L Duramax V-8 Diesel |
| Transmission | Automatic 10-Speed Allison 1000 |
| Module Length | 153″ |
| Module Width | 94″ |
| Aisle Width | 46″ |
| Module Headroom | 72″ |
| GVWR | 14,000 |
| | |
| --- | --- |
| Chassis | Dodge RAM 3500/4500 |
| Wheel Base | 167.5" |
| Engine | 6.7L I6 Cummins Turbo Diesel |
| Transmission | 6-Speed Auto Aisin AS69RC HD |
| Module Length | 153″ |
| Module Width | 94" |
| Aisle Width | 46" |
| Module Headroom | 72" |
| GVWR | 14,000/16,500 |
Specifications
Body
Body – 2″ x 2″ x .125″ w/.090″ 5052-H32 skin
Sub-Floor – 2″ x 2″ x .125″ & 2″ x 2″ x .250″
1.75″ x 4″ x .250″ channel w/.750″ tapping plates
Floor – .060″ AL barrier, .75″ marine grade
Compartments – rubberized polyurethane coat
SS Front – smooth AL, O2 M-cylinder mount
SS Middle – smooth AL, open storage
SS Rear – smooth AL, spare tire
CS Front, Upper – ALS w/IS/OS access
CS Front, Lower – optional battery storage
SS Rear – smooth AL, BB storage, (2) belts
Doors & Windows – tinted, fixed glass
TriMark free-floating, powder coated black
FMVSS 206/30G compliant entry doors
Rear Bumper Frame – HD steel tube frame powder coated black
Rear Step – ADP rear pods w/flip-up step rubber dock bumpers
Mud Flaps – rubber rear
Fender Flares – black rubber w/SS optional
Running Boards – w/ADP splash guard
Stone Guards – ADP each corner
Rub Rails – C-channel w/1″ reflective strip
Environmental/Electrical
Combo up to 59K BTU heat, 38K BTU cool
630 CFM multi-speed fan
Exhaust Fan – 2-speed
Digital thermostat
Digital volt/amp meter
Easy maintenance relay/circuit breaker electrical system
Electrical Cabinet – over pass-thru w/hinged, latching door
Front/rear switch panels w/internal LED backlighting
Wiring – GXL, point-to-point, color coded
Front Console – floor-mounted, CNC cut formed, welded & powder coated black
Rear Control Panel – w/integral LED clock
Shoreline – 125V, 20-amp, 60 Hz receptacle
TST commander 400 battery disconnect
Battery Charger – 45-amp
Inverter – pre-wire
125 VAC Outlets – (2) / 12 VDC outlets (2)
USB Port – dual 2-amp outlet on A/A wall
Radio Power/Ground – (2) w/antenna coax
Lights & Siren
Exterior Body Lights – (7) 900 Series LED on front wall, (4) red, (3) white – R/W/R/W/R/W/R, (2) 900 Series red LED each side upper outboard corners, (2) 900 Series red LED upper rear corners, (1) 900 Series amber LED center rear, (2) 900 Series red LED rear mid-body as brake/warning
Grille – (2) LINZ6R red LEDs w/chrome bezels
Intersection – (2) LINZ6 red LED w/chrome bezels on front fenders
Scene Lights – (4) 900 Series halogen Gradient Opti-Scenelight (2) each side
Load Lights – (2) 900 Series halogen Gradient Opti-Scenelight
Opti-Scene over rear doors
Siren – Whelen 295SLSA1 watt front console
Speakers, Siren – (2) CPI 100 watt polished aluminum thru front bumper
Interior
Cabinet to Squad Bench Aisle – 46″
Cab to patient compartment – pass-thru bulkhead w/optional crawl through
Laminated wood cabinetry
Full SS wall cabinetry or CPR seat w/EVS Pro-4 belts
Action area & overhead cabinet
Pass-thru & bulkhead storage cabinets
ALS Cabinet – lower locking, middle open storage with I/O access
Lexan sliding doors w/extruded pull handles
Squad Bench – powder coated aluminum with HDPE Lid (2), EVS Pro-4 belted positions
Technician's Seat – captain's chair w/Pro-4 belt
Interior Lighting – (8) LED dome lights recessed in ceiling w/5-minute check-out timer, 16″ LED bar light in action area
Grab Handles – SS on each entry door panel
Grab Rail – 72″ SS overhead in ceiling
Cushions – formed/seamless upholstery
Flooring – .125″ solid vinyl w/3″ roll-up
Patient Care
Suction Aspirator – RICO RS-4X
Oxygen Outlets – (2) in A/A (1) over SB
O2 Cylinder Retention – steel w/(3) straps, oxygen cylinder wrench
IV Holders – (2) CPI 2008 recessed
Cot Mount – GSA/AMD compliant cot mount
Warranties
Electrical – 72 months/72,000 miles
Limited – 36 months/36,000 miles
Paint – 48 months
Body Structure – 15 years
Ambulance Interiors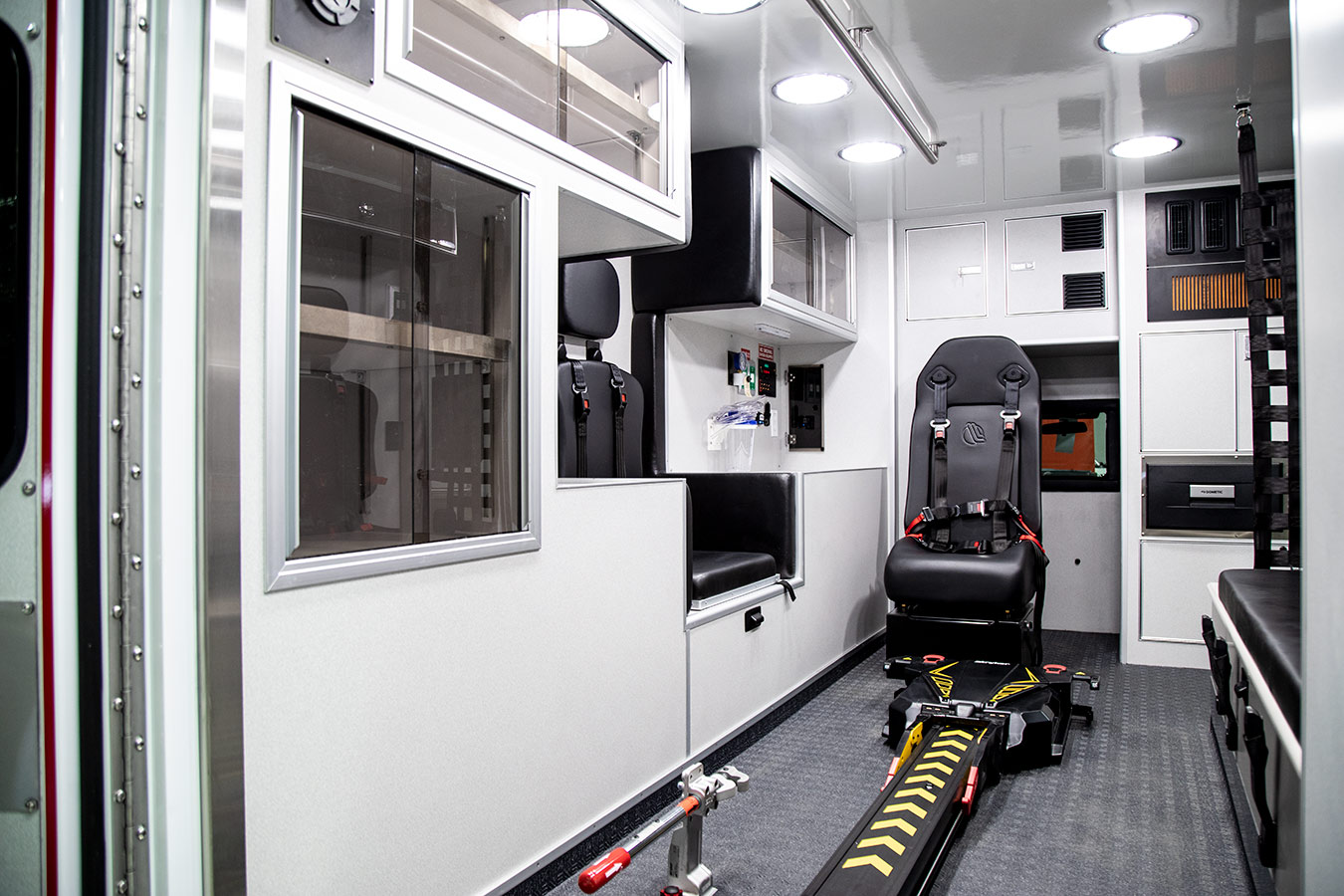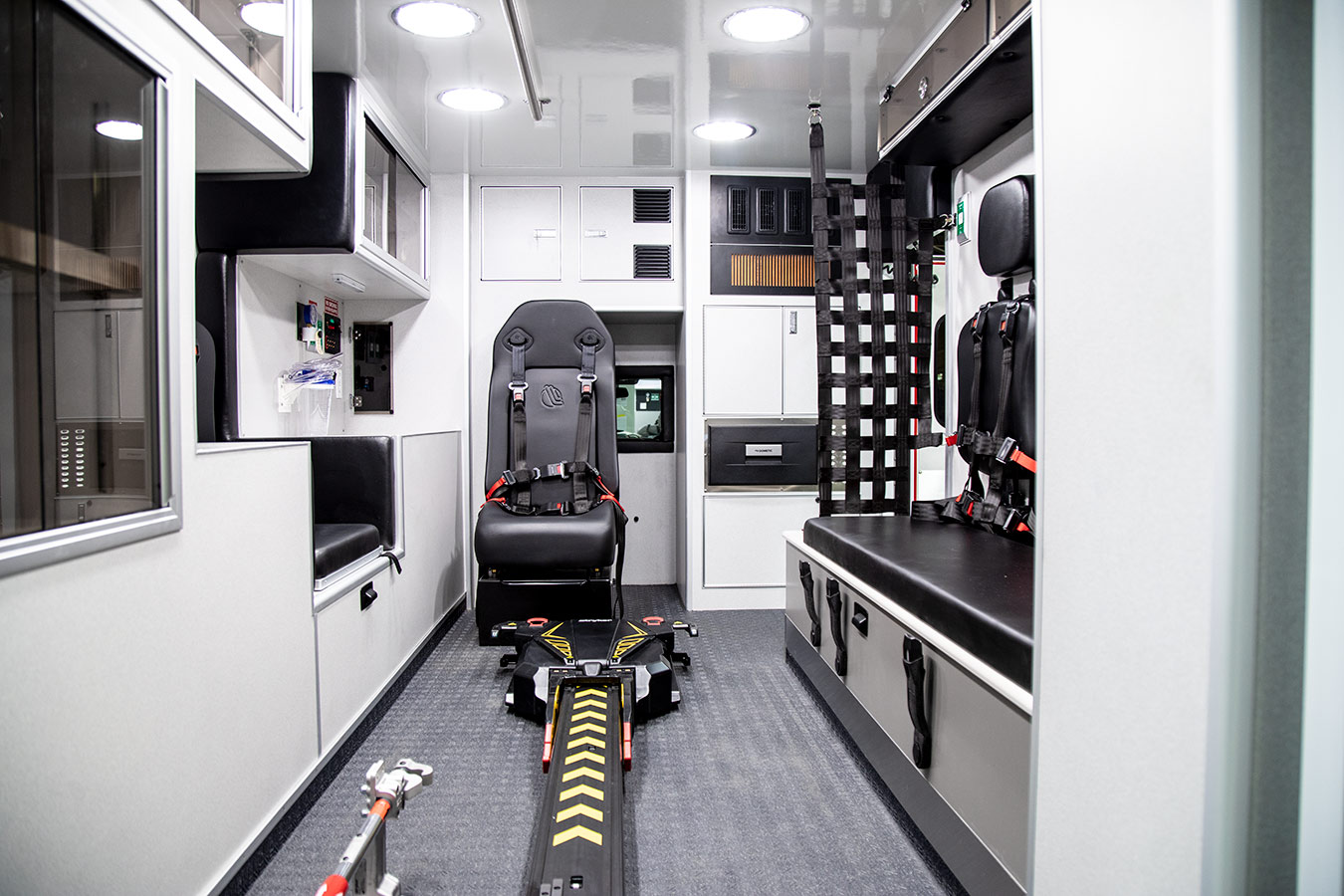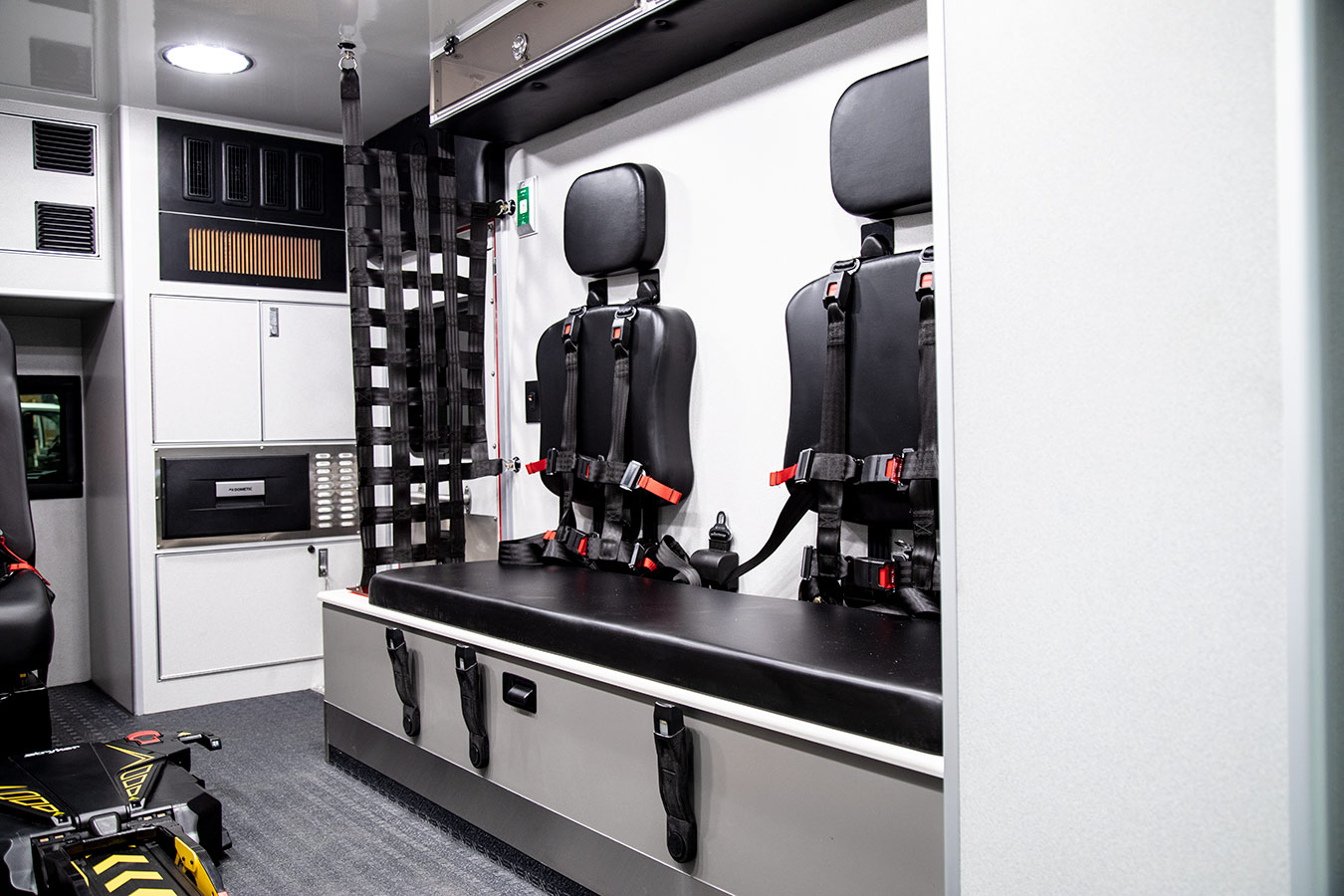 "The Medix units are incredibly durable. These things get beat up every day. They're used heavily. We see about 25,000 patients a year…but I have not seen any damage to the inside of any of these units. Everything still looks new, even three years into our endeavors with Medix."
OSF HealthCare, Peoria, IL